For the last few years now I have been creating pet portraits from photos. I work with the highest quality pencils and paints offering colour pencil, oil on canvas, pastel and graphite options. Any animal welcome!
If you are interested in ordering a portrait please feel free to get in touch to discuss what you would like. Be sure to book your portrait in advance to avoid disappointment.
Please see sizes and prices below
If you would like more than two subjects please get in contact for a personal quote
If you need the price list in a different currency let me know £ € $ 
?I ship worldwide 
Currently booking end of November 2020 on wards 
✅25% deposit secures your slots.
10% deposit for Christmas and 2021 slots The remaining balance is paid upon completion of your portrait. 
25% per additional subject 
Postage quote given once size of portrait and country is confirmed. 
Single subject prices: 
Oil on canvas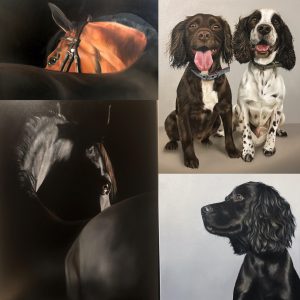 Oil painting 
25x30cm £260
30x30cm £295
The above sizes are suitable for one subject only 
30x40cm £365
40x40cm £415
40×50 £500
50×50 £600
50×60 £670
50x70cm £760
70×70 £880
60×80 £950
80×80 £1200
80×90 £1300
90×90 £1400
100×100 £1600
100×120 £1800
120x150cm £2000
Oil painting p&p quote can be given once size confirmed
Graphite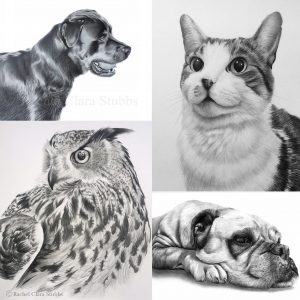 A5 – £180
A4 – £350
11x14in £450
A3 – £650
A2 – £850
A1 – £1200
Pastel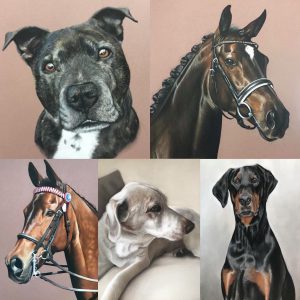 Pastel
A5 – cats only £140 
A4 -£190
11x14in £290
A3 – £350
A2-£550
A1-£800
Coloured pencil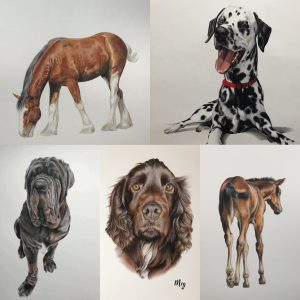 Coloured  pencil
A5 –  £195
A4 –  £320
11x14in £450
A3 –  £540
A2 –  £900
A1 – £1300
Postage quote can be given once I know what size portrait you would like and what country to ship to.
If you live in Europe/USA/Canada please let me know and I'll get you a postage quote
*Based on conversion rate Jan 2019. May differ.
How to order
Step 1) Have a look at the sizes and prices and send me an email (rachelstubbsartist@outlook.com or via my contact page) with your photos. Photos should be clear, sharp and a true likeness. Good light is important especially if you would like your portrait in colour.
Step 2) Let me know if you would like graphite, colour pencil, oil on canvas or pastel and what size. If you would like more than one subject etc. Be sure to tell me if you require your portrait for a specific date (I.e birthday/anniversary gift)
Step 3) After we've discussed the requirements for your portrait a 25% deposit can be made to secure your slot
I will work on your portrait whilst keeping you updated with my progress. The balance is only paid when you are happy with your portrait.